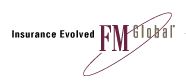 My previous "Companies I love" post was about Concept2 and I spent a lot of time explaining the world of rowing because it's an unfamiliar topic to many. This post is almost the complete opposite, and that's one reason it will be a lot shorter.
FM Global is an insurance company that I have known about for about five years.  I spent some time with them five years ago and that was when I learned about their business model and I have loved them ever since.
The basic premise of my work is to first focus on "what" you are doing before asking how you do it.  For many companies in an industry, "what" they do is identical, or close to it, to what their competitor does, and decisions about which "whats" will differentiate the organization is the basis of their operating model.  The thing I love about FM Global is that they have a whole series of "whats" that most insurance companies don't have, and it makes so much sense to me, I don't know why other organizations don't follow suit.
I am not going to tell you that I am an insurance expert, but I understand the basic premise of insurance is that they will pay to fix or replace something of yours if you pay their regular fees and your risk profile is within their tolerances.  And in that sense, a lot of insurance companies are the same and they differentiate on price or customer service or something along those lines.  What I love about FM Global is that they have an entire group of people who go out to their clients and actively help them reduce their risk.  It's a whole set of "whats" around Manage Client Risk that just don't exist in other insurers.  They have engineers who, for no additional fee, will go out to an insured building, for example, and spot high risk areas and propose changes.
So instead of sitting on the sidelines hoping for the best, they actually step in to take an active role in risk reduction for their clients.  It's a big cost to add these "whats" but it makes all the sense in the world because it helps their clients and it reduces the number of claims they have to pay. It's a great model and given what we have seen with both the housing market and the automotive mess, it's too bad there weren't more FM Global people focused on those areas or I bet we wouldn't be in this mess.
-Ric