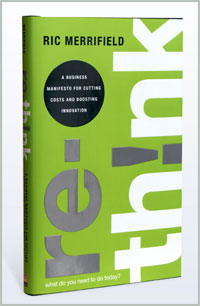 A Business Manifesto for Cutting Costs and Boosting Innovation
$22.49
Publisher:

Pearson FT Press

Edition:

First

Available in:

Paperback, Kindle, Audiobook

ISBN:

978-0133829143

Published:

April 8, 2009
Buy Paperback on Amazon
Buy Kindle on Amazon
Buy Audio Book on Amazon
It's the trap that ensnares virtually every business:
We focus on process: "how" we're doing the job. And we forget about the bigger issue: "what" we're doing and why we're doing it. That's why we're leaving so much value on the table. In Rethink, business architect Ric Merrifield exposes this problem with vivid examples and introduces breakthrough techniques for overcoming it.
Merrifield shows how to rise above the clutter of your "how's" to expose what does and doesn't need attention in your organization. You'll learn to identify the activities most critical to success, as well as those that are borderline, redundant, or even counterproductive. Merrifield helps you get past the parochial, subjective viewpoints of ground-level participants…find more cost-effective ways to achieve core goals…capture better information for prioritizing investments… identify hidden sources of value…use technology-driven "plug-and-play" management to increase efficiency and agility…reconfigure your company to ride nonstop waves of change.
Along the way, Merrifield presents powerful case studies ranging from ING DIRECT and Amazon.com to Procter & Gamble. These diverse companies have learned how to cut costs, strengthen innovation, and profit from change all at the same time. Using the lessons in this book, you can, too.
Rise above low-level processes and narrow perspectives
Step back, identify what really matters to the organization, and act accordingly
Understand the hidden connections that can make or break your business
Make profitable changes without setting off destructive "chain reactions"
Expose activities where people, process, and technology matter…and, equally important, where they don't
Table of Contents:
Introduction
Chapter 1        How the "How" Trap Is Trapping You
Chapter 2        The Thinking Behind Rethinking
Chapter 3        First–Identify the "Whats" That Are Truly Valuable
Chapter 4        Second–Know What You Are (and Aren't) Good At
Chapter 5        Third–Make (and Break) Connections
Chapter 6        Fourth–Understand What Can (and Can't) Be Predicted
Chapter 7        Fifth–Unravel (and Follow) the Rules
Chapter 8        Revolutionary Rethinking at ING DIRECT
Chapter 9        Rethinking at Eclipse
Chapter 10      Rethinking at Cranium
Chapter 11      Morph Again and Again
Key Concepts
Index